If you think you can do it all with a personal Pinterest account rather than a Pinterest business account, think again. Brands need access to the additional tools you get with a business account in order to monitor performance, run ads and create rich pins.
Throughout this article, we'll cover how to create your own Pinterest business account, use it strategically to promote your business, best practices and more.
Let's dive in.
How to create a Pinterest business account
Creating a Pinterest business account gives you access to the necessary tools for running a successful brand social media platform and there are a number of benefits for doing so.
While a personal Pinterest account still allows you to create up to 2,000 boards, create as many as 200,000 Pins and more, you won't be able to see performance insights or run ads unless you have a business account.
Luckily, creating a Pinterest business account is extremely easy. And if you already have a personal Pinterest account, you can easily convert your personal account over to a business account. Or, if you want to keep your accounts separate, you can simply create a linked Pinterest business account and switch back and forth between the two.
How to create a Pinterest business account
To create a brand new Pinterest account that isn't linked to an existing personal account, follow these steps:
1. Head over to business.pinterest.com and click the Sign up button in the top right corner
2. Input your business email address, preferred password and age, then click Create account
3. Fill out the Build your profile fields and click Next
4. Next, fill out the Describe your business section and click Next
5. Select whether you want to run Pinterest ads or not (trust us, you do) and click Next
6. Then, choose where you want to start or click the X to head to your Pinterest profile and start saving Pins
How to create a linked Pinterest business account
If you want to create a separate Pinterest business account and want to link it to your personal account, follow these steps:
1. Log into your personal Pinterest account and click the down arrow next to your name
2. Click Add account from the dropdown menu
3. Click the Create button under the option to Create a free business account
4. Then follow steps 3–7 above, under How to create a new Pinterest business account
How to convert your personal account into a Pinterest business account
If you want to convert your existing personal account into a business account, follow these steps:
1. Log into your personal Pinterest account and click the down arrow next to your name
2. Head to Settings, then to the Account Management tab
3. Click Convert account next to where it says Convert to a business account (as you can see below, mine has already been converted—you can easily go back and forth if you change your mind)
4. Follow steps 3–7 above, under How to create a new Pinterest business account
How to use Pinterest for business
Now that you know how to create your own Pinterest business account let's dig into some of the basics of using Pinterest for business.
1. Start creating your own pins
The bread and butter of Pinterest is creating your own Pins. There are a few ways to create your own Pins.
First, start by creating new Pinterest boards. You may want to create pinboards for each of the different products you offer, for various industry topics or topics relevant to the services you provide.
Here's an example of my own Pinterest business account boards. As a social media and digital marketing writer, my pinboards are all related to various areas of the marketing industry.
Consider what types of pinboards make sense for your brand and start creating them. You can also take a look at competitors or brands in a similar industry to see what they've done.
Once you've created a new board, open it up and then click the More ideas button towards the top. Here, you can bulk up your Pinterest board with some ideas, images and links that already exist on the platform.
However, if you're creating boards that you only want your own products or blog posts to exist in, you'll need to create a new Pin from scratch. There are two different ways to do this.
How to create a Pin on Pinterest
First, click the Create dropdown on Pinterest and select Create Pin.
Then you'll be taken to a screen where you can add in all of the details of your Pin.
You'll need to:
Select the board you want to publish the Pin to (you can also click Create board to create a new one while you're here)
Give your Pin a title and description
Add alt text for accessibility
Add a link for where your pin will lead
Upload an image or video
Choose to publish or schedule your Pin (more on Pin scheduling shortly)
How to create a Pin from your website
The next way to save Pins is to do so directly from your website. You can either download the Pinterest Chrome extension or add the ability to save Pins directly on your website (more on this in the next section).
With the Pinterest Chrome extension, the "Save" option will appear anytime you hover your mouse over an image on a website. Click the button, then choose the board you want to save it to.
Then head over to your profile to make any adjustments you need to make to the Pin title and descriptions—especially to add additional keywords for better search opportunity.
2. Optimize your pins for Pinterest SEO
Pinterest is a visual search engine, which means you need to be conscious of keywords when creating your Pinterest profile and when saving Pins. Just like regular SEO, you don't want to keyword stuff. Instead, include some of the more prominent keywords that people use to search for your products within your bio, Pin descriptions and board descriptions.
The areas of your Pinterest profile, pinboards and Pins that should be optimized include your:
Pinterest name: Mine is "Chloe West | Social Media & Digital Marketing Tips" to include what I do. Niche photography group The Simply Elegant Group chose to title their profile as "The Simply Elegant Group | Destination Wedding Planners."
Pinterest bio: Include a few top-level keywords (like your industry or product-line) within your bio to explain what you do.

Pinterest board titles: Don't be vague with your titles. Instead, create clear-cut board titles that let users and the Pinterest algorithm know what it's about.
Pinterest board descriptions: When creating your pinboard, insert a few board-specific keywords into the board description to explain what types of Pins will live there.
Pin titles: Include straightforward titles to your Pins. This might be a blog post name or a product name.
Pin descriptions: Help people find your Pins by writing clear descriptions that include popular search phrases.
3. Schedule Pins ahead of time
As we've seen, Pinterest now has its own scheduling capabilities if you create a Pin on their website. However, you can also easily schedule Pins with a tool such as Sprout Social, all while also scheduling your other social media content. This makes managing all your social profiles, including Pinterest, even more streamlined.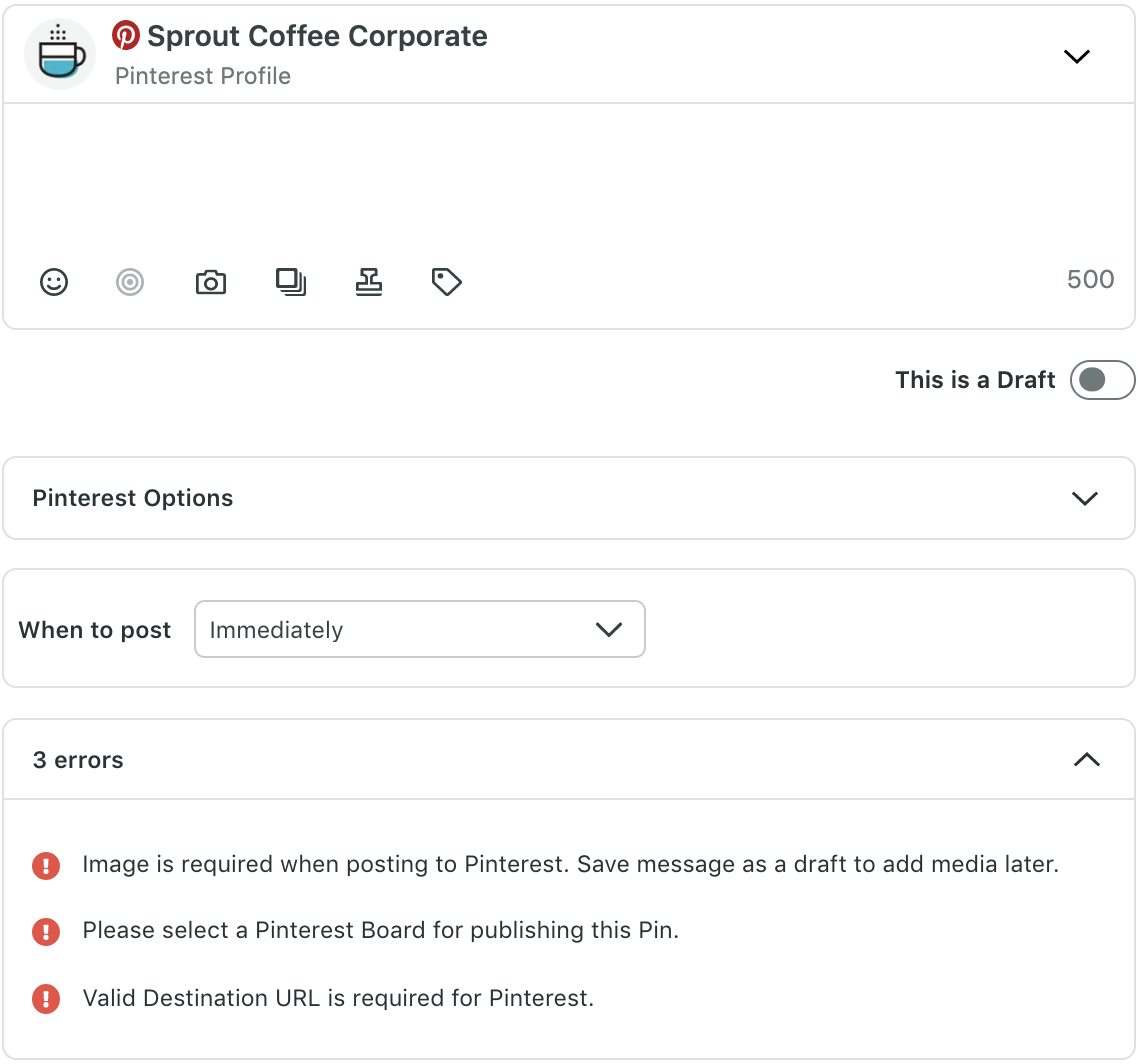 By scheduling your Pinterest content, you can maintain a consistent publishing schedule for your Pins, regardless of whether you're online or not. This allows you to schedule an entire week's content at once, rather than logging into Pinterest each day.
4. Keep an eye on your Pin performance
Pinterest business accounts come with the ability to view overall account and Pin performance. This helps you gauge how many people you're reaching and how much traffic you're sending to your website from your Pinterest account.
Once you've verified your website, you can also view the performance of your individual Pins, making sure that they're resonating with your audience as much as other Pins you may have saved.
You can also keep track of Pin performance based on a number of different metrics, from impressions and engagements to clicks and saves.
5. Promote Pins to reach a larger audience
Pinterest also has its own advertising platform so that you can promote certain Pins, products, blog posts, lead magnets and more. Click Ads in the top navigation menu then select Create ad from the dropdown to get to the ads manager.
This walks you through setting your objective, choosing your audience, budget and more. But if you're looking for a more simple ads setup, you can click the Switch to 3-step ad creation button in the top right to select an already-existing pin to promote.
5 Tips for using Pinterest for business
Want to get the most out of Pinterest for your business? We've put together five best practices to help you jumpstart your pinning journey.
1. Optimize your Pinterest profile
While it takes just seconds to set up your business profile on Pinterest, the work doesn't stop there. When people look at your profile, they should be able to get a clear idea of what your brand is all about and what kind of content they can expect from you.
So if you're going to leverage Pinterest for business, start by optimizing your profile to accurately reflect your brand image. This includes:
Having a distinct company logo in your profile picture and optimizing it according to the Pinterest size guidelines
Creating an eye-catching cover photo that reflects your brand style
Writing a description that accurately defines your brand and what your followers should expect
Including your business name in the unique URL
Highlighting a few of your best boards as "Featured boards" to give people a glimpse of what you have to offer.
Here's an example from Anthropologie who does all of this really well. First, they uploaded an on-brand cover image, verified their profile and put together a relevant bio.
On Pinterest, brands don't need to shy away from the fact that they are brands on the platform – users frequently shop, research and engage with brand content that provides value.
Anthropologie is noted for its signature visual style, and that's carried through all elements of its Pinterest profile. The brand's boards highlight a mix of product imagery alongside more hands-on content like food and drink recipes, tie into their tagline's stated mission of "style, beauty and home." And they even have branded board covers that fully tie their profile together.
If you want to go in-depth on how to set up your Pinterest profile's branding for success, check out our easy-to-follow 5-step Pinterest marketing guide.
2. Develop a powerful content strategy
If you're using Pinterest for business, you can't drop link, post images and hope for the best. It's crucial to have a specific idea of what types of content and images you should create to win over your audience, and develop a content strategy accordingly.
Once you have your goals set up, you'll be able to start developing a content strategy geared toward those goals. What type of content will help you fulfill your purpose? And what kind of content does your audience expect from you?
While there are a ton of options, the following types of images should form the cornerstones of the Pinterest content strategy for your business:
Eye-catching imagery
Just like Instagram, Pinterest too is a visual platform. So images that pop and instantly catch the eye should be the essence of your strategy. Color-coordinated images and high-definition photos are a few examples. Check out this pin from Birchbox, where the rich colors of the featured products from Tocca echo the luxe design of the surroundings.
Instructional content
Educational content is the life force of Pinterest. In fact, 85% of Pinners say they go to Pinterest to start new projects. So make sure your content strategy includes instructional visual content that helps people learn how to do something such as how-to's, tips and DIYs.Real Simple regularly shares recipes and tips to help its followers learn new things at a glance with visually appealing infographics.
Content that inspires
People also turn to Pinterest to get inspired. Give your followers a regular dose of visual inspiration that's relevant to your industry–whether it's motivational quotes or wedding décor ideas. Apartment Therapy has created several boards to provide home décor inspiration to its followers.
Informational content
Informational content is another way for you to engage your Pinterest audience. Create infographics and factoids that will help people learn new facts and figures relevant to your industry, products or services.
3. Create Pins that stand out
While eye-catching imagery should be a vital element in your Pinterest for business content strategy, it's a bit challenging to create them.
If you want to create more visually compelling Pins, make sure you follow the creative best practices from Pinterest. These Pinterest best practices include:
Maintaining a 2:3 aspect ratio (for example, 1000 x 1500 pixels)
Including your brand logo
Adding text overlay with concise, targeted copy to tell better stories
Choosing images that show context – this includes showing a product or service in a lifestyle setting or showing a use case in action that brings it to life.
4. Publish at the best time for increased engagement
Like with every other social media platform, timing is everything on Pinterest. However, unlike some super fast-moving platforms like Instagram, the visual content you've put so much effort in can have a much longer shelf life on Pinterest.
Seasonal and occasion-related content is huge on Pinterest, with plenty of ways to source ideas for everything from recipes to decor. Seasonality on Pinterest shows that many Pinners start engaging with occasions months in advance – such as summer-themed Pins gaining traction in early spring, and winter holiday Pins are saved starting in June.
As with almost any form of content, though, posting at the optimal time to get in front of an active audience can help your Pinterest content get off to a running start. Sprout's ViralPost technology is available for Pinterest posts, using your own account's data about your historical top times for engagement to suggest the best times for future posts.
After you start publishing on Pinterest, you can start analyzing your post performance at different hours and on different days of the week. Use Sprout's Pinterest integration to see how your content is performing and continue to refine a posting strategy that works specifically for your brand.
5. Add Pinterest save buttons to your website
Regardless of the Pinterest goals for your business, you should encourage more people to save your content to their boards. This not only helps more Pinners learn about your brand, but also compels more people to visit your site and buy your products.
One of Pinterest's best practices is to add save buttons to your site so Pinterest users save ideas and images to their pinboards in just one click.
Use the Pinterest Widget Builder to create suitable save buttons to add to your site.
Pottery Barn allows you to easily save their products to your pinboard using a save button. It's underneath their product photos, allowing interested customers to save this to a board before they decide to buy.
Create your own Pinterest business account today
Pinterest is a great platform for increasing sales and traffic for your business—you just need to know how to create and use your Pinterest business account effectively. Take heed of all the tips we included throughout this post, then be sure to combine these tips with our full guide to Pinterest marketing.
Source link