Get out your pencils and notebooks because class is in session. Today, we're talking about social media management.
Social is an ever-evolving field where the only constant is change. Despite this, there are still core fundamentals that can create a solid base for ongoing career growth.
This social media management course is broken down into six lesson plans that will give you a primer on each topic. Plus, we've also included skill-building assignments in each section so you can get a jump-start on learning.
Let's get started.
Lesson 1: What is social media management?
Social media management encompasses all the tasks that go into the execution of a social media content strategy. This includes, but is not limited to:
The creative efforts to bring an idea from concept to post
The administrative duties needed to share your work across teams
The engagement practices that build connections with your audience
Thanks to the fast-paced nature of social media, the tasks and topics that fall under each of these umbrellas are constantly changing.
For example, in less than a few years we've seen the creator economy completely transform how we post on social. The rise of social messaging has brought conversations from public to private, creating more personal connections between people and the brands they love. Social commerce has revolutionized how business leaders perceive the channel, taking it from awareness-focused to a full-funnel experience.
These developments prove one thing: social is driving how consumers interact with businesses, making social media roles business critical.
We asked, you answered
Everyone has their own social media management definition. To find out how social pros would tackle the "what is social media management?" question, we turned to LinkedIn.
Here's how some pros explain what goes into managing a social media presence:
"You know when you follow a brand on social media, and you tag them in a photo and they reshare? Or when you voice a complaint to a brand they respond? Or when you get an ad for something on social media? That's all me."

– Melissa Valle Veltri

Senior Manager, Brand Strategy – Social Media, TransAmerica

"Social media management is the art of growing online communities, nurturing relationships with customers, partners and stakeholders and offering your customers solutions to problems they didn't know they had."

– Louise Tollick

Digital Content Manager and Administrator, Sports for Confidence CIC

"It's the art of igniting convenient conversations."

– Meryoli Arias

Senior Social Media Manager, Chili Piper
Level-up your skills with these assignments
Now that you have your definition, it's time to get up to speed on the current state of social media with these three assignments.
Find out how executives are thinking about social. We surveyed more than 1,000 US consumers and 250 business executives to find out how social shapes business strategies. Read the Harris Insights Report for all the data you need to know.
Learn from stand-out industries. This round up of social media benchmarks by industry is filled with brand spotlights so you can learn from some of the best.
Explore the many careers available in social media marketing. Find out which roles play to your unique strengths in this round-up of social media careers.
Lesson 2: Social media content creation
Content creation is a fundamental aspect of social media management. People may log on to their favorite social networks to connect with friends and family, but more than one-third (36.3%) stay to fill time.
You can use these spare moments to create lasting connections with your audience, but the competition is stiff. On social, you're not only up against direct competitors. Marketers need to account for other sources of content, like media outlets, publications and creators.
To stand out, you need to know what people want.
The most engaging type of in-feed social content is short-form video, followed by images and live video. However, a diversified social media marketing strategy makes use of all types of content. This may seem overwhelming, but it's actually an opportunity in disguise.
Think of it this way: you can use a single live video stream to create dozens of short-form video clips, GIFs, text posts and more. At Sprout, we use our See Social Differently podcast to inform posts across networks like Instagram, Twitter, LinkedIn and TikTok.
3 Social media management apps to enhance your content production
With the right setup, your phone can be more than a distraction. Here are three apps you can use to streamline your social media content creation process.
1. Splice
Splice is an easy-to-use video editing app that's perfect for those looking to surpass the capabilities of in-network editing tools. Use it to trim, crop and add transitions to video clips and you'll have the perfect TikTok, Reel or YouTube Short in no time.
2. Adobe Lightroom App
Source
The Adobe Lightroom app makes on-the-go photo editing a breeze. Plus, if you already have a Lightroom plan, you can access and edit photos across all devices. Combine that with the ability to save presets, and you get everything you need to take and share on-brand photos.
3. The Sprout Social mobile app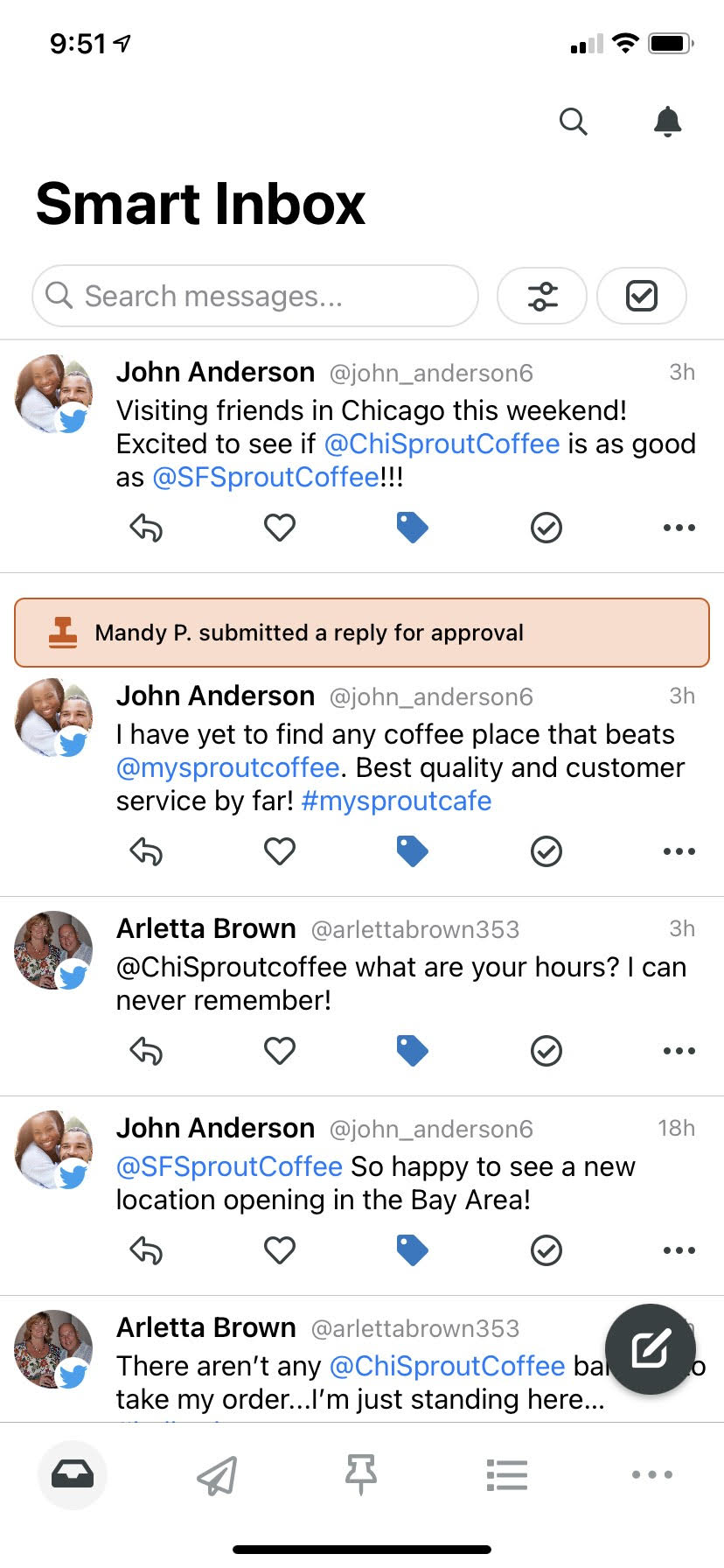 The Sprout Social mobile app is a game changer for marketers that need to share real-time content while working within an approval workflow. Once your image or video is ready, you can submit your post for review right from the app so everything gets proper sign-off.
Level-up your skills with these assignments
Content creation is your chance to flex your creativity while managing social media. Here are three assignments that will help you get into the creator groove:
Create a gallery of post templates. Use this always up-to-date guide to social media image sizes for quick and easy content creation.
Create a swipe file of post inspiration. Gather a collection of memorable content and refer to it during brainstorms to give your brain a little boost.
Master the art of repurposing. Challenge yourself to come up with as many use cases for a single asset as possible. If you need some assistance, check out this guide to maximizing the use of your Instagram content.
Lesson 3: Social media team management
Good news: If you're a team of one, there's a good chance that won't be the case for long.
More than three-fourths (88%) of marketers anticipate expanding their team over the next two years. This type of growth can be an amazing opportunity, but it does come with a learning curve. Developing your team's talent also means committing to your ongoing development.
Here are four skills to develop as you build out your team:
Reporting and analytics
As you move into a people management position, you'll find yourself having to speak on behalf of your team's efforts more often. Understanding how to gather and synthesize data is key to explaining the impact of your social media management strategy.
Do your work justice by creating a narrative around your efforts. Practice storytelling with data to paint an accurate picture of how social impacts your business.
Time management
There's no way around it. More team members often means more meetings.
Stand-ups, one-on-ones, project kickoffs and all the other meetings that need to happen to execute a strategy can quickly eat away at your calendar. Protect your time by setting aside designated focus hours and conducting regular meeting audits.
Feedback
Being able to give and receive constructive feedback is more than a skill. It's a superpower. The majority of HR leaders (89%) agree that ongoing peer feedback is the secret to better business outcomes.
As you onboard new co-workers, ask how they prefer to receive both positive and constructive feedback. This can help develop an effective culture of recognition within your team.
Empathy
Social media management is tough work.
Most social media professionals have to stay online through brand crises, world tragedies and times of uncertainty. Even though it's part of the job, this constant exposure to tough conversations can quickly wear a person down.
Don't wait until someone is battling burnout to start taking preventative measures. Advocate for your team by keeping mental health at the forefront of your conversations during the good times and the bad.
Level-up your skills with these assignments
Now that you know what it takes to be a manager, here are some assignments that can help you prepare for a growing team:
Create your growth game plan. What roles are most important for your business' success as you build out your social media team? How can you design a team that supports company goals and individual career growth? Asking these questions now can ensure that the right person joins your team later.
Write a stand-out social media job description. A great job description can drastically speed up the recruitment phase of the hiring process. Get clear on what matters most for the role and set real expectations to find a great candidate quickly.
Craft an onboarding plan. An employee's first few months with a company can set them up for long-term success. Gather training materials and try to document as much institutional knowledge as you can before welcoming your new teammate.
Lesson 4: Social media reputation management
Have you ever thought about buying from a company only to find out they have poor online reviews? Did you follow through on that purchase? If you didn't, you're not alone.
According to a study from BrightLocal, just 3% of shoppers say they would consider using a business with an average rating of two or fewer stars.
Social media reputation management is a critical yet often overlooked aspect of social media management. While it may not fall under a social professional's core responsibilities, it's vital to the success of all businesses.
If you're new to online reputation management, here are three rules that can guide your strategy:
1. Ask for reviews with tact
You don't have to wait for reviews to roll in on their own. Sometimes, you just need to ask.
Reach out to fans and power users to see if they'd be interested in sharing their experiences with your product or services. Be sure to make the process as easy as possible. Providing a specific prompt or template can increase customer follow-through.
2. Respond to both the good and the bad
That same BrightLocal survey found that more than half of consumers are unlikely to use businesses that don't respond to reviews.
Responding to negative reviews can be difficult but it's also a powerful way to let consumers know that you hear and respect their feedback.
3. Be proactive about risk management
Feedback won't always come through direct channels. People often will talk about your business on their personal profiles without tagging or mentioning your brand account.
A social listening strategy can help you stay on top of the many conversations that surround your business and industry. Use a social listening tool (like Sprout's!) to support an opportunity-driven brand reputation management strategy that helps you create lasting connections with your audience.
Level-up your skills with these assignments
Social media reputation management is a group effort. Use these three assignments to build a collaborative process that supports company-wide initiatives.
Meet with your customer care team. Your customer care department can provide unparalleled insights on the strengths and weaknesses of your product or company. Work with them to outline risks and opportunities. This will help you tailor your strategy to business needs.
Build a library of DM templates. Once you've outlined potential opportunities and risks, start working on a library of customer care responses so you're always ready when feedback comes through.
Create your social reputation management toolkit. Identify the most common avenues of customer feedback and tailor your strategy to those channels. This will help create order around the many ways people can share their experiences with your business.
Lesson 5: Social media management tools
Managing an active social media presence natively was a tough task five years ago. Today, it's virtually impossible to do alone.
Between sharing content, responding to consumers and managing paid initiatives, social media calendars are more jam-packed than ever before. To keep up with the demands of a modern social media strategy, businesses have to invest in social media management tools.
These tools can do more than just save time. The benefits of a social media management tool include:
Increased brand awareness with optimized post times for improved performance.
Better engagement by consolidating inbound messages into a single location for faster response times.
Improved analytics that provide a more holistic view into the overall performance of your social strategy.
Sprout Social's suite of social media management tools can do all that plus more. Our unified platform provides powerful data, flexible tools and an intuitive user experience that helps you keep a pulse on the insights that can drive your business forward.
Find the right social media management tool for your business
Level-up your skills with these assignments
Buying a new social media management software is a team decision. If you want to get the ball rolling on a new software purchase, here are two ways to kick off the discussions:
If you're currently managing social media natively, try out a time tracking exercise. Record how long it takes you to schedule posts across individual networks, then use that number to estimate how much time you could save with a social media management tool. This will help you build your case to buy.
If you already have a social media management tool, consider whether or not it's meeting your current business needs. Remember: a tool should work as a natural extension of your team. If you often have to set up workarounds to execute on your strategy, it may be time to consider something new.
Lesson 6: Social media community management
Online communities have been around for a while, but they've never been more important than they are today.
Take Canva for instance. Their Facebook Group, Canva Design Circle, is home to more than 250,000 members seeking peer-to-peer design advice.
The conversations happening within the group might not always be product-focused—they don't have to be. Posts that aren't product-related still provide their team with an invaluable look into the needs of their audience.
Thanks to the rise of communities like these and vertical social networks, more and more people are taking their online interactions behind the walls of private groups. If you want to stay connected to your target audience, the best thing you can do is give them a place to make connections of their own.
Level-up your skills with these assignments
Like Rome, an active community can't be built in a day. Use these assignments to build a foundation for a thriving brand community.
Analyze the broader conversations around your industry. If you limit your community to product or service-related discussions, you miss out on conversations that can create stronger brand affinity. Meet the needs of both prospects and customers by shifting your focus to the bigger conversations happening in your industry.
Identify the topics that drive engagement. Once you figure out what people want to talk about, identify the sub-topics and formats that drive the most engagement. These opportunities can help jumpstart activity during the early days of your community.
Create a roadmap. Take a slow and steady approach to launch your community. Start with an invite-only beta program designed for loyal customers and power users to test drive your strategy. Once you're in a groove, you can expand to a larger audience.
Navigate the changing world of social media management with confidence
Social media is constantly evolving. Every update and trend brings us closer to building better relationships with audiences at scale. It's a marketers playground and you're all set to join the fun.
For more on trends driving the current state of social media, check out this year's Sprout Social Index™ Report. Use this data to do some independent social forecasting and find out what will matter for your business tomorrow, today.
Read the Report