If your marketing tech stack is a puzzle, then picture your enterprise social media tool as the final piece that pulls it all together.
Once it locks into place, you're left with more than just a complete picture of consumer needs.
When searching for your company's missing piece, an informed decision is the best decision. Kicking off your selection process with a dedicated research phase can pave the way for better process and performance outcomes.
The tool that takes your team's efforts to the next level is out there. Keep reading to find out what you need to know when choosing an enterprise social media management software.
3 things you need to know before choosing enterprise social media management software
Enterprise software purchases are a team sport. Throughout the buying process, you'll likely have to work with several stakeholders across your business, from IT to HR and beyond.
You can ensure that all stakeholder concerns are addressed during the vendor selection process with just a few hours of prep work. Here's what to outline to set your company up for social success:
1. Your goals
Why does your business need a new enterprise social media management tool?
This may sound like an easy question, but asking it is a major step in ensuring everyone is on the same page. For example, your customer service team may have different priorities than those operating on the marketing side. Defining your goals creates clarity, which leads to more informed decisions.
Schedule a kickoff meeting with all your stakeholders to decide on top priorities. Remember to keep longevity in mind so you won't have to repeat this process at the end of your contract terms.
2. Your governance and compliance policies
When you think of all the bells and whistles you want out of your next enterprise social media solution, governance features probably don't come to mind. While they're not the flashiest tools, they are incredibly important when it comes to eliminating risk.
Work with your IT team to outline the social media governance concerns and requirements you'll need to discuss with potential vendors. Preparing and sharing a compliance-focused scoresheet before signing up for demos can save both parties time and effort.
Pro tip: Outlining these concerns in a social media RFP helps vendors to remove themselves from your process if they can't meet your security needs.
3. Your priority integrations
Social data can revolutionize how your business seeks and acts on consumer insights. But if it lives on software that's isolated from your tech stack, you won't be getting the full picture.
Identify which social media management integrations matter most when creating wow-worthy customer experiences online. Rank them by importance and mark which are non-negotiable. As you move through vendor evaluations, this will help you identify which software will be most able to meet your needs.
The enterprise social media management tools your business needs in 2022
By now, you should have all the information you need to choose a tool that complements both your existing processes and tech stack. It's finally time to create your vendor shortlist.
Sprout Social offers a full suite of tools that can elevate your social media strategy in 2022 and beyond. We work with a roster of partners to ensure your social media processes are integrated into everything from internal communications to customer retention.
Here's how Sprout can work alongside the rest of your enterprise toolkit to help your business measure and show social media impact.
Enterprise social media management: Sprout Social
Brands like Klarna, Allegiant Air and more use Sprout to power cross-functional social strategies that support a variety of outcomes. Our unified platform provides flexible tools and an intuitive user experience to scale social across departments and business units.
We could provide you with a whole laundry list of reasons to consider Sprout when selecting a new enterprise social media management tool. In the interest of time, we'll stick to the top three features enterprise organizations need for org-wide strategic alignment:
Data analytics: Sprout's analytics tools provide deep metrics, flexible customizations and features that increase transparency for faster reporting across all social networks (even TikTok).
Market intelligence: Our social listening tool can help uncover business-critical insights that identify industry gaps and improve brand health.
Customer care: Integrations with CRM and commerce tools support superior social customer service experiences that align with the expectations of the modern consumer.
Enterprise organizations can schedule a demo to discuss their needs and goals with a member of Team Sprout. From there, we'll take you on a live product tour so you can learn more about how to get the most out of the platform.
Enterprise social network: Slack
What is it? Slack is a team collaboration tool that is basically the professional equivalent of AOL Instant Messenger. Companies use this enterprise social network to promote internal communication through direct messaging and group channels.
How does it work with Sprout Social? Sprout's pre-built integration with Slack helps social teams keep up with approval processes and task flows in real time.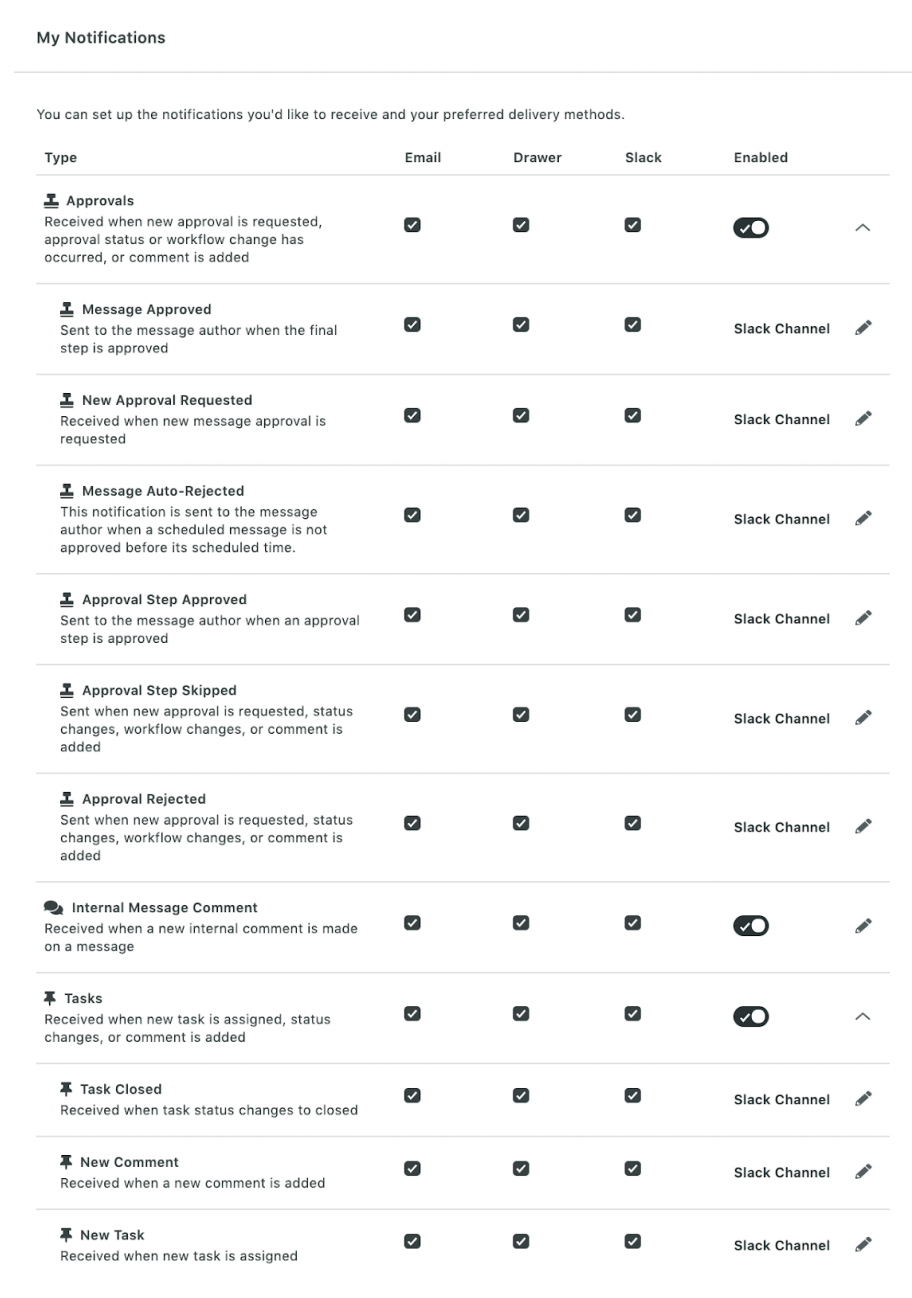 Once a Slack Workspace is connected to a Sprout instance, users can choose which Sprout notifications they'd like to receive via Slack. This is a game changer for time-sensitive engagement opportunities and lengthy approval workflows.
Lead generation: Marketo
What is it? Marketo is a lead management platform that helps marketers nurture prospects and target qualified lead-to-revenue opportunities.
How does it work with Sprout Social? Sprout's integration with Marketo helps social teams send warm leads over to sales quickly and with all the necessary context needed to get the conversation started on the right foot.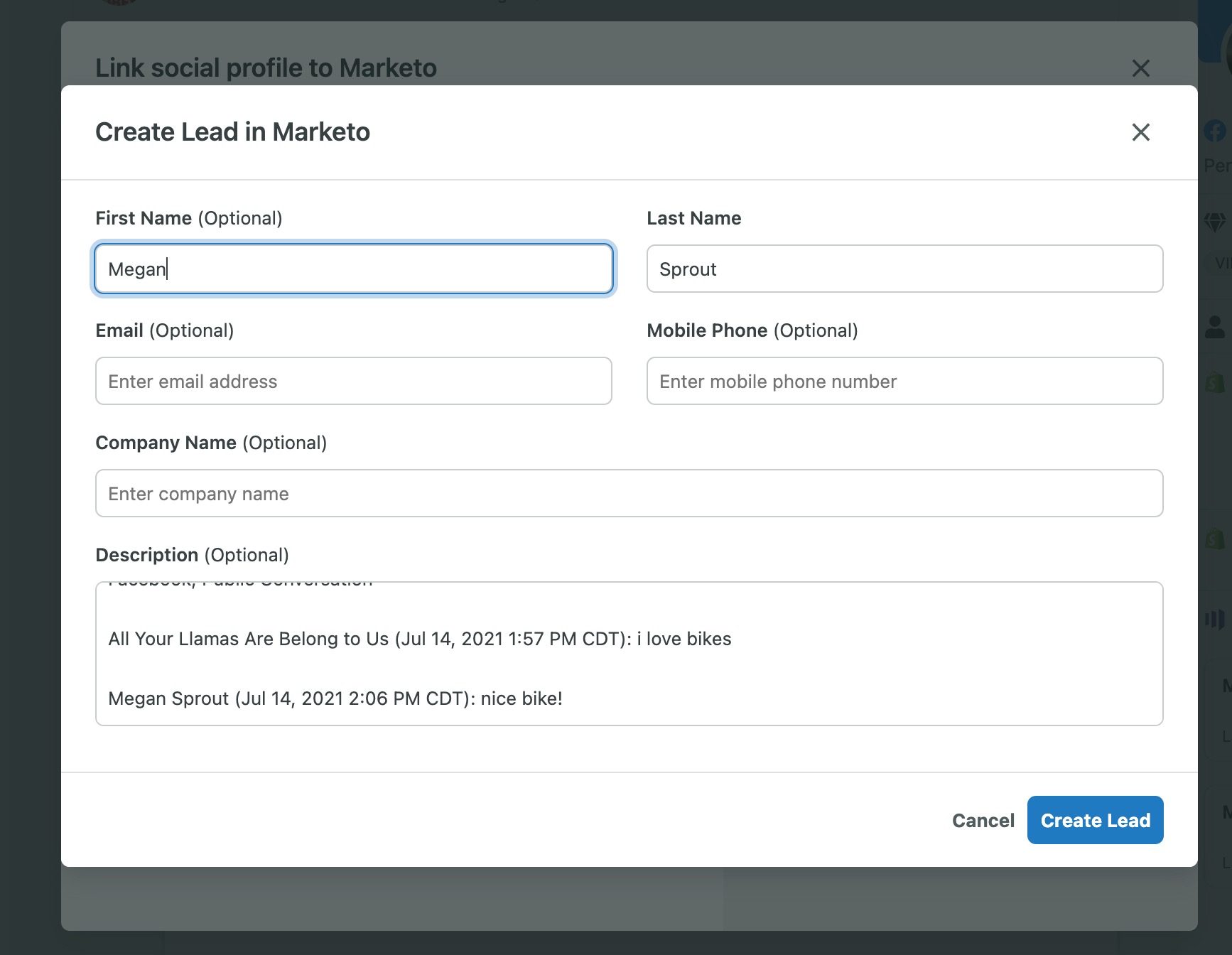 Users can create and edit leads from within the Sprout platform. This creates a richer lead profile that accounts for a prospect's full experience with your brand.
CRM: Salesforce, Microsoft Dynamics 365 and HubSpot
What are they? Customer relationship management (CRM) tools are like digital rolodexes that house all of a business' prospect, lead and customer data.
Sprout integrates with three enterprise CRM tools: HubSpot, Microsoft Dynamics 365 and Salesforce.
How does Salesforce work with Sprout Social? Earlier this year, Sprout Social and Salesforce announced a partnership designed to help enterprise organizations manage their end-to-end social media presence.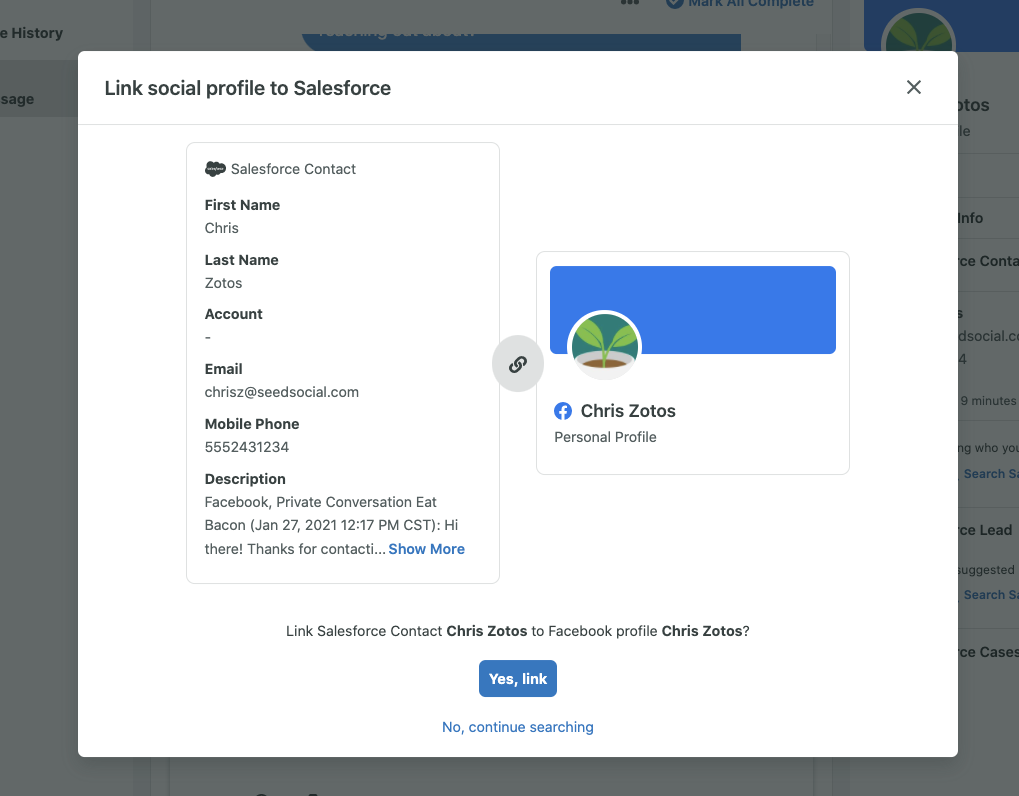 Sprout's integration with Salesforce allows users to edit leads, cases and contacts through the Sprout platform. This easy-to-use, pre-built integration supports alignment between marketing, sales and support teams so everyone can take advantage of critical social insights.
How does Microsoft Dynamics 365 work with Sprout Social? Our enterprise social media management solution integrates with Dynamics 365 to assist with lead generation and support case management.
How does HubSpot work with Sprout Social? Sprout's bi-directional integration with HubSpot helps social support agents provide superior customer care across networks.
Agents can quickly check in on the status of a support request through both Sprout Social and HubSpot. Marketers and support staff can use this visibility to apply a personal touch throughout a customer's interaction with their brand on social.
Workflow and digital asset management: Dropbox, Feedly and Canva
What are they? Creating a single piece of content can require several video clips, graphics and reference materials. Workflow and digital asset management tools centralize these files in a single location for easy storage and sharing.
Sprout Social integrates with three workflow and digital asset management tools:
Dropbox is a cloud-based file hosting service that helps teams share files and folders easily.
Feedly is a news aggregator that allows users to organize and research stories by topic.
Canva is an online graphic design tool that can be used to create social media posts, videos, presentation decks and more.
How does Dropbox work with Sprout Social? Sprout's integration with Dropbox streamlines content creation by allowing users to access Dropbox files from directly within the Compose tool.
How does Feedly work with Sprout Social? News aggregators can level up an enterprise social media management tool by creating a direct stream of content inspiration in one, centralized location.
Users who connect their Feedly account to Sprout Social can access their personal RSS feeds from the Feeds tab. This content can be used as third-party social shares or for extra doses of inspiration.
How does Canva work with Sprout Social? If your team relies on Canva to punch up your visuals, then a Canva integration is a must-have.
Sprout's Canva integration allows users to import design files from design folders for beautiful, on-brand social creative, every time.
Customer experience: Zendesk
What is Zendesk? Zendesk is customer service software that streamlines support processes and productivity.
How does Zendesk work with Sprout Social? Findings from the 2022 Sprout Social Index™ show that taking too long with social customer care can have serious consequences. When it happens, more than one-third of consumers say that they'll share the negative experience with friends and family.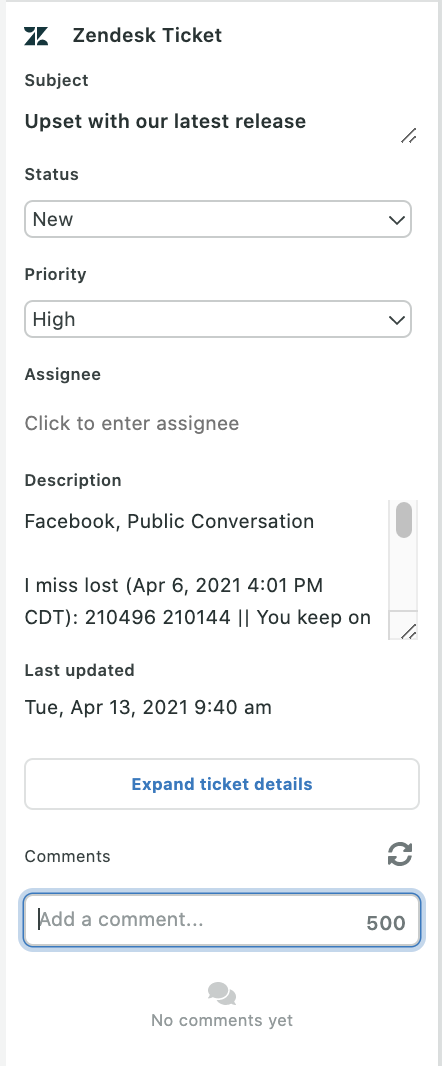 Sprout's integration with Zendesk supports frictionless customer care experiences for both your customers and internal teams. The two-way integration allows social teams to open a support ticket from the Sprout platform with all the context needed to create high-quality customer experiences.
Reputation management: Glassdoor, Tripadvisor, Yelp and Google My Business
What are they? Social proof is a psychological phenomenon in digital marketing that has both risks and rewards. While seeking feedback can open your company up to critique, positive feedback is too powerful to miss out on.
Enterprise businesses face a unique challenge when it comes to reputation management. The larger your company, the more customer touch points. More customer touch points leave more opportunities for feedback.
Using social media reputation management tools like Glassdoor, Tripadvisor, Yelp and Google My Business can help enterprise businesses be proactive with reviews, even at high volumes.
How does Sprout work with Glassdoor, Tripadvisor, Yelp and Google My Business? The Reviews tab in Sprout Social centralizes feedback from all four sites.
Enterprise businesses can create multiple filtered views to triage and respond to reviews across channels. You can also report on reviews by volume and star rating from the Reports tab.
Social commerce: Shopify and WooCommerce
What are they? Social commerce—the buying and selling of goods and services within a social media platform—is creating brand new revenue opportunities for enterprise organizations.
To sell directly on social media, marketers typically must link their ecommerce platform to their enterprise social media management tool. Sprout integrates with two ecommerce platforms: Shopify and WooCommerce.
How does Sprout work with Shopify and WooCommerce? Marketers can set up their social commerce shops by integrating their preferred ecommerce platform with Sprout Social.
Once the platforms are connected, you can curate your shop by selecting which listings you'd like to promote on social. Listings can also be promoted in scheduled content using custom product links, turning social into your new storefront.
Enterprise social media management is your tech stack's missing piece
Social data can do more than just connect the dots between strategy and ROI. When it's used in collaboration with other enterprise tools, it can provide the insights needed to drive proactive decisions.
To put it simply: When you invest in social data, you invest in future-proofing your business for the road ahead.
Use Sprout Social to create clear links between your social strategy and business impact. Learn more about our enterprise-level social media management software today.
Source link